For many companies, vehicles are the center of their operational mobility. As one of the largest cost centers, the vehicle fleet must therefore be managed in a cost-efficient and transparent manner in order to avoid unnecessary costs and maintain operational processes. However, managing a fleet is extremely complex and multifaceted and requires a strategic approach. In this article, we look at the basics in fleet management, provide insight into the most important fleet processes, and highlight current developments.
What is fleet management?
The term fleet management, also known as fleet management, describes the efficient management and control of a group of vehicles used by a company or organization for business purposes. A fleet can consist of different types of vehicles, including cars, trucks, vans, buses or specialized vehicles.
The main objective of fleet management is to ensure the smooth running of fleet operations. The aim is to simultaneously minimize fleet costs, increase efficiency and meet operational requirements. In addition to data maintenance, fleet management also includes the procurement of new vehicles, the handling of claims, fuel management and compliance with legal requirements.
How do I manage a fleet efficiently?
In order for a vehicle fleet to be managed efficiently and in a structured manner, careful planning, clear strategies and the use of appropriate technologies are required. For example, fleet management software enables fleet managers to manage and analyze all relevant data. Automating tasks can significantly reduce administrative efforts in the fleet and save costs. Furthermore, if the data is analyzed, informed decisions can be made around the strategic management of the fleet.
By installing telematics systems in the vehicles, useful data on vehicle performance, fuel consumption, vehicle position and driver behavior can be collected and used for fleet optimization and also evaluated.
With clear guidelines for the use of vehicles in the fleet – a so-called car policy – you create a binding set of rules for all employees and misunderstandings and conflicts can thus be prevented. A car policy should define, among other things, who is authorized to drive company vehicles, whether the vehicles may also be used for private purposes, and who is liable in the event of accidents and/or damage to the vehicle.
Also, schedule regular maintenance for your vehicles. This helps to avoid expensive failures and extends the life of the vehicles. Maintenance intervals should be based on the manufacturer's recommendations. And make sure your vehicles are optimally utilized. This may mean integrating a car-sharing concept where vehicles are shared. This not only increases utilization, but can also help reduce the overall number of vehicles.
What does digital fleet management mean?
Digital fleet management is based on the use of digital technologies and software solutions for managing vehicle fleets. This digital transformation enables companies and organizations to manage their vehicles more efficiently, reduce costs, increase fleet safety, and meet potential fleet sustainability goals.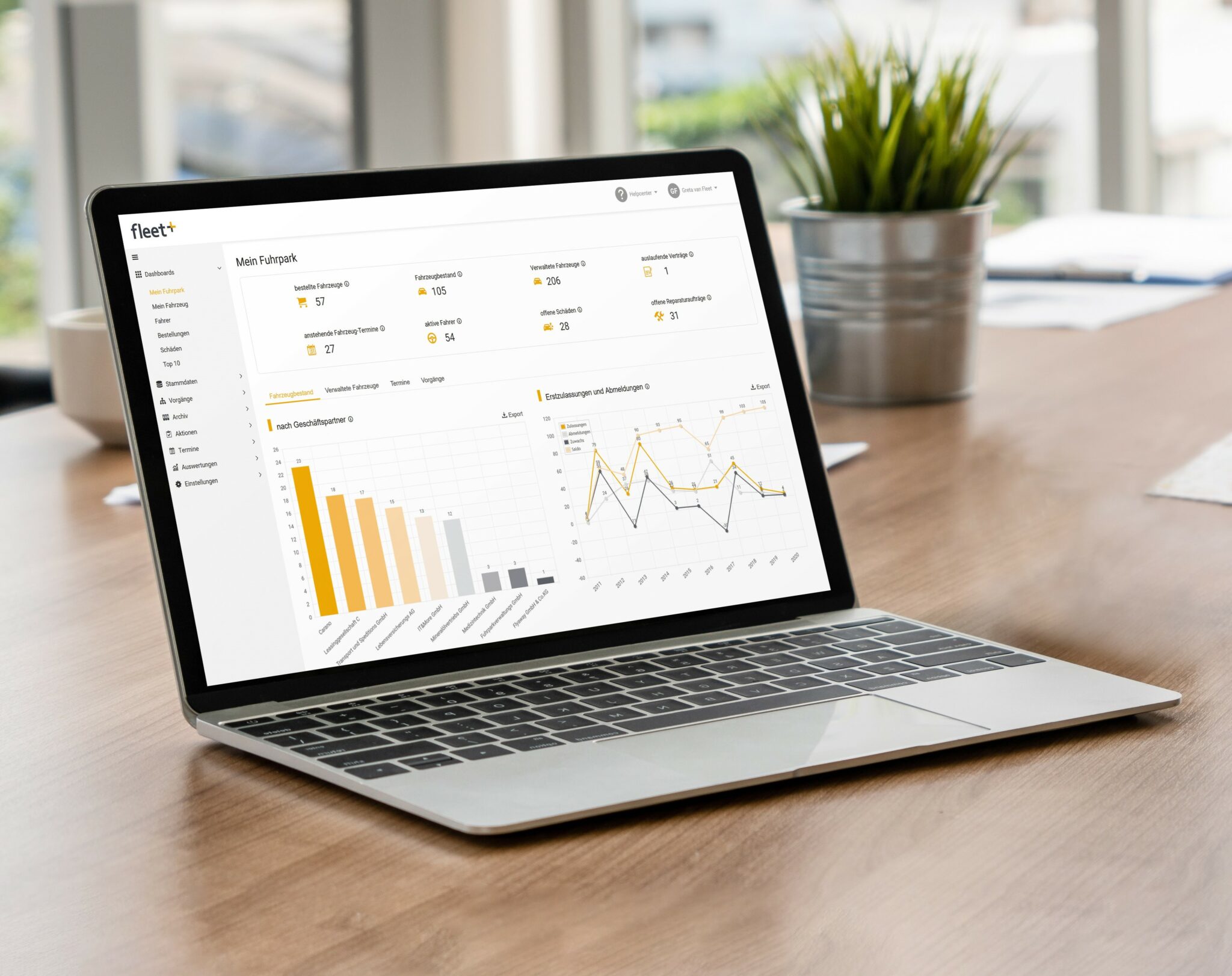 With our powerful fleet management software Fleet+, you can control your company's fleet digitally, cost-effectively and transparently.
What are the advantages of digital fleet management?
Fleet management software not only helps to keep vehicle operations running smoothly and to keep track of the fleet's condition. It offers numerous other advantages, such as
Cost reduction: By monitoring and analyzing all costs such as maintenance, fuel and consumption, companies can reduce operating costs.
Compliance and reporting: Digital fleet management facilitates compliance with regulatory and reporting requirements. For example, companies can log driver's license checks and driver training and generate reports based on all data to ensure they are in compliance with current regulations.
Data-driven decisions: The collected data can be used for data-driven decisions, to improve business processes and to comply with the fleet strategy.
Less effort: Automating tasks significantly reduces manual administration and improves data accuracy. Digital fleet management solutions also increase efficiency in the fleet.
What technologies and tools are used in fleet management?
In fleet management, various technologies and tools are used to manage vehicles in a cost-saving and efficient manner. These include:
Fleet management software: This helps fleet managers maintain all data centrally, automate tasks and keep control of all costs and consumption.
Smartphone apps: Applications for smartphones, for example for carrying out electronic driver's license checks or for booking pool vehicles, offer drivers in particular a great deal of flexibility.
Telematics systems: These tools also play an important role in digital fleet management. They include GPS devices and sensors installed in vehicles that collect real-time data on vehicle location, speed, fuel consumption, driving behavior and more. This data can then be transferred to fleet management software and analyzed to make strategic decisions.
Which processes need to be controlled in fleet management?
Fleet managers are faced with a multitude of tasks and processes. After all, vehicle fleets are not only one of the largest cost blocks in a company, they are also crucial to its economic success. Management can therefore take up a lot of time, resources and money. Primary responsibilities include the following areas of activity:
Procurement Management
One of the most important processes in fleet management involves the acquisition of new vehicles for the fleet. The selection of the right vehicles depends on the operational requirements and goals of the company. And the form of financing – whether purchase, leasing, long-term rental or car subscription – is also determined by economic factors of the company.
Service and maintenance
Regular maintenance and servicing of the vehicles is crucial to maintain their reliability and service life for as long as possible and to prevent expensive repairs. An effective maintenance program also helps minimize unplanned downtime.
Fuel management
The cost of fuel accounts for a significant portion of total fleet spending, and not just since rising fuel prices. Controlling and optimizing fuel consumption in the fleet is therefore all the more important to keep operating costs low and reduce environmental impact. Effective fuel management includes the use of more efficient vehicles, optimized route planning, driver training and the use of telematics systems.
Claims Management
Accidents happen to even the best drivers. However, to minimize downtime and avoid disrupting operations, damage should be handled as quickly as possible. This includes working with insurance companies, communicating with drivers, and coordinating repairs. Even the prevention of damage and accidents through regular maintenance and driver instruction are part of fleet claims management.
Insurance Management
Fleet managers must ensure that all vehicles are adequately insured and that insurance policies are cost effective and meet the needs of the business. Among the most important insurances are liability insurances and comprehensive insurances. Commercial vehicles often require special insurance compared to passenger vehicles.
Fuel card management
The management of fuel cards used by drivers to fill up fuel for company vehicles is also part of the fleet management processes. Both fuel cards are special credit or debit cards usually issued by fleet management companies or service station operators. The goal of fuel card management is to streamline the fuel purchasing process, control costs, monitor fuel consumption, and ensure accurate billing.
Driver's license check and driver instruction
Compliance with keeper liability obligations is a key component of fleet management. This includes regularly checking driver's licenses for validity and instructing all drivers in the safe use of company vehicles.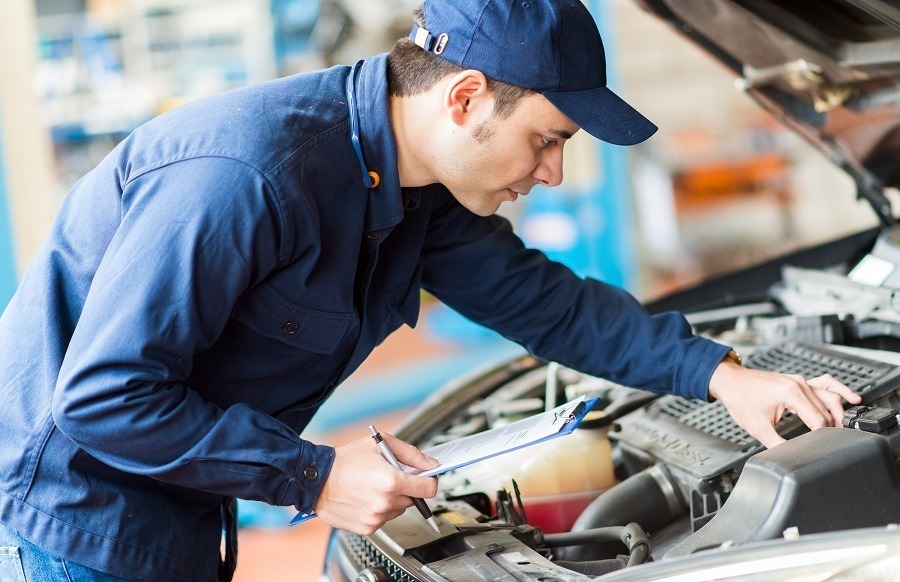 How is the role changing from fleet manager to mobility manager?
With growing concerns about their environmental impact on transportation, companies need to rethink their mobility strategies. At the same time, employees' mobility needs are changing. They want more flexibility, sustainability and individuality. The classic company car has long since ceased to be the focus of the fleet; instead, alternative mobility solutions that better meet individual requirements are in demand. This includes, for example, the integration of bike sharing, pool vehicles, e-scooters or a mobility budget.
In response to the changing landscape of mobility and the increasing importance of sustainable and diverse mobility solutions, the role of the fleet manager is therefore transforming into a mobility manager. This takes a holistic view of mobility in the company and not only focuses on the needs of employees and potential environmental impact, but must also keep an eye on costs and cost-effectiveness.
What legal regulations are there to consider in fleet management?
When managing a fleet, there are a number of legal requirements to be observed, first and foremost the keeper's liability obligations. This is because anyone who is the owner of a vehicle is liable in the event of damage to property or personal injury. The holder in the fleet is in principle the management of a company, but this can delegate its duties to a person suitable for this purpose: the fleet manager.
On the one hand, this person is responsible for the regular inspection of the driver's licenses in the fleet, which should be carried out at least every six months. The obligation to check the driver's license in the fleet results from §21 of the Road Traffic Act (StVG), which clarifies:
A penalty of imprisonment of up to one year or a fine shall be imposed on anyone who [2] as the owner of a motor vehicle, orders or permits someone to drive the vehicle who does not have the required driver's license or who is prohibited from driving the vehicle under Section 44 of the Criminal Code or under Section 25 of this Act.
Regular driver instruction in accordance with UVV is also part of the owner's liability obligations. After all, anyone who provides their employees with company vehicles must also train them at least once a year on how to use them safely and what to do in the event of an accident. The UVV driver training is required by law once a year. The basis is § 12 of the Occupational Health and Safety Act (ArbSchG), which sets out general requirements for protecting employees from work-related hazards. In addition, the driver training must be carried out before each initial journey as well as when the company car is changed.
The employer shall provide employees with sufficient and appropriate instruction on occupational safety and health during their working hours. Instruction includes instructions and explanations that are specifically geared to the employee's job or area of responsibility. […]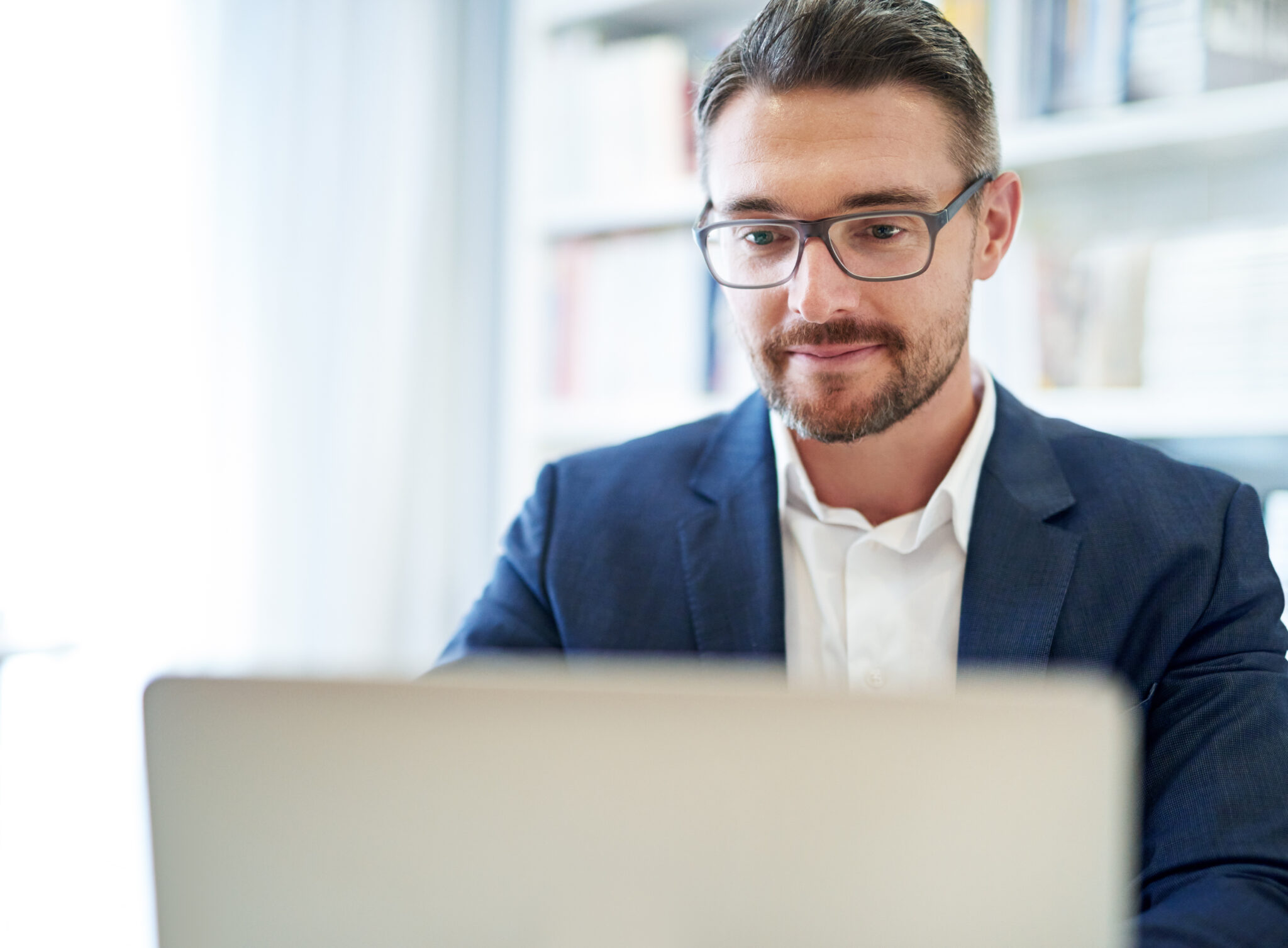 Webinar Digital Holder Liability
We show you how you can implement your keeper liability obligations with tried and tested solutions, saving costs and time.
Friday 03.11.2023 – 13.00
What are measures for sustainable fleet management?
The transport sector is one of the biggest drivers of climate change. To minimize harmful emissions, there are a number of measures for sustainable fleet management:
Electrification of the fleet
Integrating electric vehicles into the fleet can significantly reduce CO2 emissions, because e-vehicles produce no emissions while driving. Despite their higher initial cost compared to a conventional vehicle with an internal combustion engine, electrically powered cars are characterized by their lower operating costs. E-vehicles require less maintenance because their motors contain fewer parts that are susceptible to wear. In addition, e-cars are ideal as pool vehicles in a company's own car-sharing concept in the fleet.
Eco-Driving
Regularly train your drivers in eco-friendly driving practices, also known as eco-driving. This aims to minimize fuel consumption and thus environmental impact. A forward-looking driving style such as eco-driving avoids unnecessary braking and acceleration, maintains an optimum speed and upshifts early.
Car sharing
Ensure that your vehicles are optimally utilized to minimize unnecessary – and expensive – downtime. A car-sharing concept is ideal for this, in which the vehicles in the fleet are not assigned to a fixed employee, but are used jointly. This increases the utilization of the vehicles and at the same time the number of vehicles can be reduced. This saves costs in acquisition, maintenance and insurance. Carsharing software simplifies the booking and return of vehicles as well as digital key management.
Alternative fuels
Alternative fuels have great potential in reducing environmental impact, lowering operating costs, and reducing dependence on fossil fuels. Natural gas, biodiesel, electricity, and hydrogen generally have lower or no CO2 emissions compared to traditional fossil fuels such as gasoline or diesel. However, introducing alternative fuels into a fleet also presents challenges, such as the availability of refueling or charging facilities, higher initial costs for some vehicle types, and the need to train and raise awareness among drivers.
Telematics and data analysis
Telematics systems provide you with relevant data on vehicle performance, driving behavior and fuel consumption. Analyze this data to optimize routes and driving behavior, thereby reducing consumption and emissions.
What are the trends and developments in fleet management?
Autonomous driving
Science fiction becomes reality. Assistance systems such as proximity control systems, automatic emergency braking systems and lane departure warning systems are already contributing to greater safety on German roads. Reading a book while driving, however, is still a thing of the future for many company car drivers. In the U.S., on the other hand, autonomous trucks are already on the road on intercity highways. Here, the main aim is to counteract the shortage of personnel, as there is currently a shortage of around 80,000 drivers. In Germany, around 100,000 jobs are unfilled – so the technology has great potential here, too.
Electromobility
Whether trend or necessity: electromobility will continue to shape fleet management in the coming years. With the phasing out of internal combustion engines in Europe by 2035 and the growing demands for greater climate protection, electromobility remains a key factor. Advances in battery technology are extending the ranges of e-vehicles, shortening charging times and reducing purchase costs.
Alternative mobility models
How we get around is changing and various trends in mobility are already occupying fleet management. In addition to the company car, more individual and sustainable mobility solutions are increasingly coming to the fore. Alternatives such as public transport, mobility budgets or sharing services will play a key role in shaping the mobility mix in companies to meet the increasing desire for flexibility.
Complete package for your car sharing fleet
From vehicle booking and flexible vehicle access to compliance with legal requirements, our corporate car sharing software CaranoCloud lets you manage your pool vehicles efficiently.