The vehicle fleet represents a major cost factor in companies and often requires elaborate planning and control. However, thanks to outsourcing, many operational activities can be automated or placed in the hands of experts. In this article, we take a closer look at the advantages and disadvantages of fleet management outsourcing and explain what you should consider when making a decision.
What is fleet management outsourcing?
When outsourcing fleet management, the entire administration or certain tasks are outsourced to external third parties instead of being handled internally. Outsourcing in fleet management starts with the outsourcing of certain tasks through full-service leasing to complete outsourcing of fleet management.
Fleet management outsourcing can relieve both the budget and human resources in your own company. In many smaller companies, the person responsible for the fleet is usually also employed in another area of activity and also does not always have the corresponding know-how that is necessary for efficient and compliant compliance with all obligations in the fleet. This is where specialized fleet service providers or full-service leasing companies offer a remedy. Operational processes such as claims management, repairs or cost recording are particularly suitable for outsourcing. However, you should carefully analyze whether outsourcing is suitable for your fleet.
Advantages of outsourcing in fleet management
Companies that decide to outsource (part of) their fleet management processes can benefit from the following advantages:
Cost savings in procurement, administration and recycling thanks to the fleet service provider's expertise and better purchasing conditions
Increasing efficiency by outsourcing routine tasks, allowing employees to focus on their core tasks.
Investments in employee training or IT systems can be minimized and scalability increased
Increased process quality and legal certainty through access to the expertise of the external expert
Disadvantages of outsourcing in fleet management
In addition to the advantages, there are also disadvantages that should be considered when looking at outsourcing in fleet management as a whole:
External service providers cost money. In the best case scenario, the qualitative advantages should outweigh the financial outlay. In some cases, higher costs are also accepted in order to avoid having to handle fleet management internally.
Outsourcing to a service provider can result in a loss of internal knowledge, as well as flexibility and control.
A dependency on the service provider may arise. This is particularly disadvantageous if the service provider does not have the expected qualifications after all or other problems arise. In the worst case, the company will have to go back into self-administration.
Data protection and other security aspects require appropriate contract design and measures to ensure that your company data and processes are well protected.
Partial outsourcing in fleet management – practical example Technolit
Technolit GmbH proves that there is also a way back. After gaining experience in full-service leasing, the company is now increasingly managing its fleet internally again. The trade magazine Autoflotte reported on this in this article. Technolit relies on the fleet management software Fleet+ to automatically read in the invoices and analyze them in detail. The service providers receive precise specifications for billing, and through standardization Technolit keeps an eye on the total cost of ownership (TCO). The smallest deviations are shown automatically. The most important functions for the internal team also include the processing of resubmissions so that no tasks are lost.
What should be considered when outsourcing fleet management?
Outsourcing in the fleet is associated with consequences and should therefore be well thought out. When deciding to outsource fleet management – or to partially outsource certain fleet areas – a precise cost-benefit analysis should be carried out. The company's goals and strategies must always be decisive: How does the fleet contribute to the company's success, what are the risks of outsourcing and what competencies must be in the company?
For larger fleets, the potential lies primarily in savings in process costs. Smaller fleets often lack a dedicated fleet manager and thus the necessary know-how. In addition, better purchasing conditions can be achieved here through a service provider. Outsourcing operational tasks can bring cost savings – but strategic responsibility should always remain within the company to prevent dependence on the supplier.
For a comparison of the costs of internal and external administration, all previous costs must be recorded. Appropriate software solutions, in which all the necessary data converge, can provide the basis for strategic decisions here. In any case, it is advisable to document all processes within the framework of outsourcing, as this preserves the possibility of integrating fleet management.
Strategic tasks in the vehicle fleet
Alignment of the vehicle fleet with regard to image, sustainability, mobility needs and drives
Supplier selection, financing
Definition of car policies, which should reflect factors such as image, residual values and employee motivation
Forms of financing
Risk assessment
Operational tasks in the vehicle fleet
Cost recording, auditing and controlling
Claims management, repairs
Driver's license checks, instructions
Fuel card management
Fleet service provider or full-service leasing?
There are many ways to outsource fleet management. So there is the
full-service leasing
where the lessor also manages the vehicle fleet. Alternatives are specialized fleet managers who bring the management of vehicles from different leasing companies under one roof, as well as service providers who take over only selected services. The decisive factor here is whether you want to outsource individual jobs or the entire fleet management. A fleet service provider can be more neutral in terms of contract adjustments or returns, but they should make sure to exclude any commissions at the time of contracting.
Software support for fleet outsourcing
If you want to maintain your fleet independence, but still benefit from outsourcing fleet management, Fleet+ fleet management software provides the appropriate support. Automatic collective invoice imports with plausibility check, comprehensive reporting and action management relieve the burden of daily work and leave time for the strategic management of the fleet.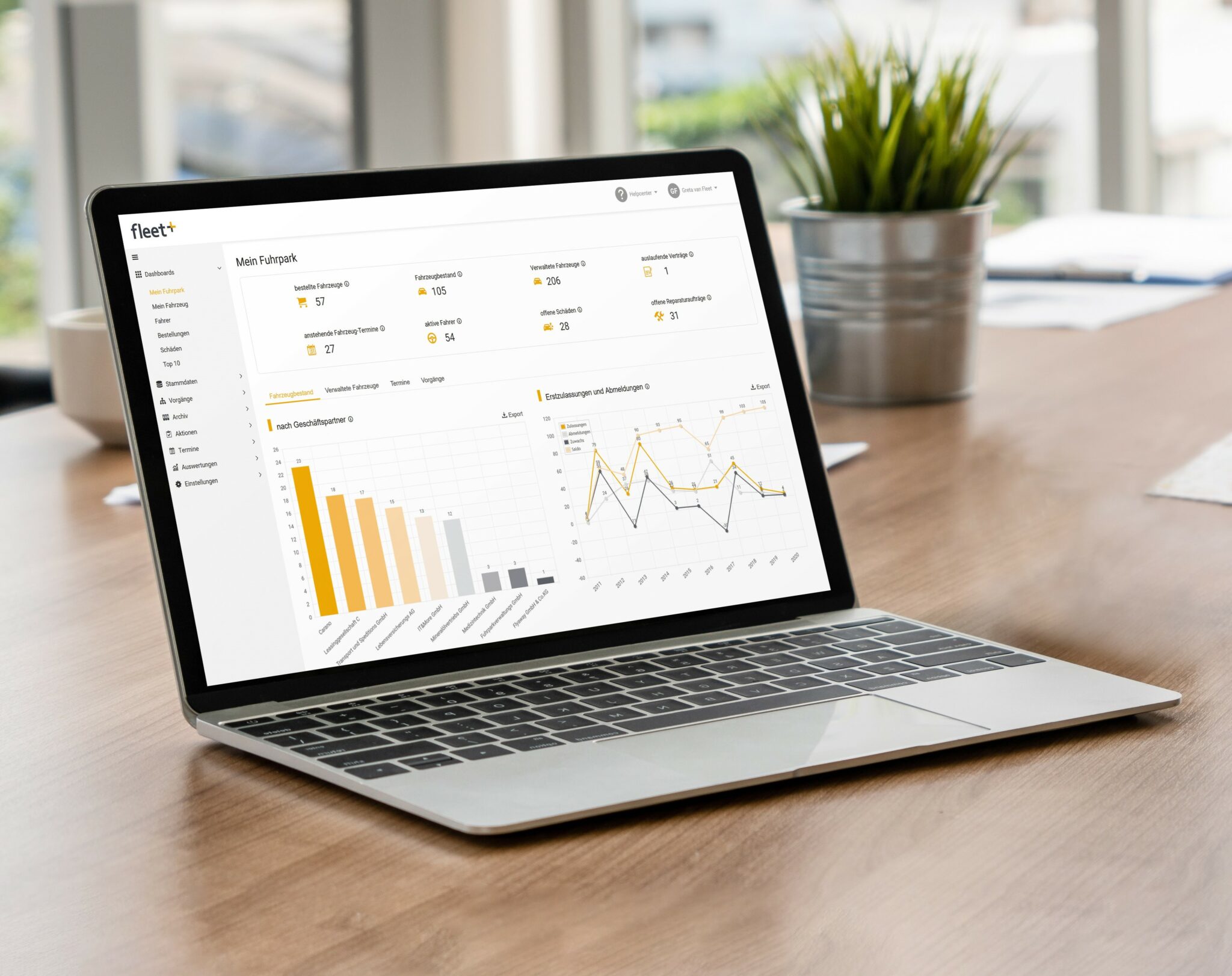 With our powerful fleet management software Fleet+, you can control your company's fleet digitally, cost-effectively and transparently.