If you have vehicles in your fleet, you have to organize them accordingly. This is because fleet management plays a central role in the organization and control of operational mobility. It is designed to ensure that employee mobility needs are met. The associated tasks in the fleet are varied and the processes complex. As one of the biggest cost drivers in the company, the vehicle fleet must be managed efficiently and costs must always be kept in view. At the same time, legal requirements must be complied with, claims must be settled and, under certain circumstances, sustainability goals must be met.
The digitization of the fleet is becoming a key function in this context: By automating tasks, efforts can be minimized, potential savings identified, and safety in the fleet increased. In this article you will learn which tasks fleet management includes and how fleet software can relieve you.
What does fleet management mean?
The term fleet management refers to the organization and management of a vehicle fleet in a company. On the one hand, this includes the procurement and control of vehicles as well as the planning and organization of maintenance and repairs. The processing of damages, fuel management and the administration of contracts and insurance policies are also part of fleet management. In addition, fleet managers must comply with the statutory keeper liability obligations. This includes regular checks of driver's licenses and the proper implementation of driver instruction in accordance with UVV.
The core tasks of fleet management are:
Maximize the efficiency of the fleet
control the operating costs
Optimize the use of the vehicle
increase operational productivity and
comply with the legal requirements.
Managing the fleet efficiently means managing it economically and ensuring compliance with legal requirements. In addition, fleet management plays a key role in optimizing operational mobility. By having an appropriate fleet of vehicles to meet the needs of its employees, a company can increase efficiency and productivity…
What are the goals of fleet management?
One of the main goals in fleet management is the efficient control of the fleet and the reduction of costs in the fleet. This includes reducing operating costs such as for fuel consumption, maintenance, insurance and vehicle procurement expenses. Through efficient use of resources and cost control, fleet management can help increase the company's profitability.
Another goal of fleet management is to optimize the fleet with regard to the (mobility) requirements of the company. This includes having the right number and type of vehicles to support operations efficiently, as well as optimizing vehicle utilization and route planning to minimize empty runs and maximize efficiency.
In addition, more and more companies are setting themselves the goal of promoting environmentally friendly practices and minimizing the ecological footprint in their fleets. This can be achieved by using environmentally friendly vehicles, promoting fuel-efficient driving behavior, reducing emissions and using sustainable procurement and disposal practices.
What is digital fleet management?
Digital fleet management refers to the use of digital technologies to efficiently manage and control a fleet of vehicles. These include software solutions, telematics and GPS systems, and smartphone apps. They help optimize fleet operations, collect and analyze data, and make informed decisions. Fleet digitization enables more efficient, transparent and data-driven management.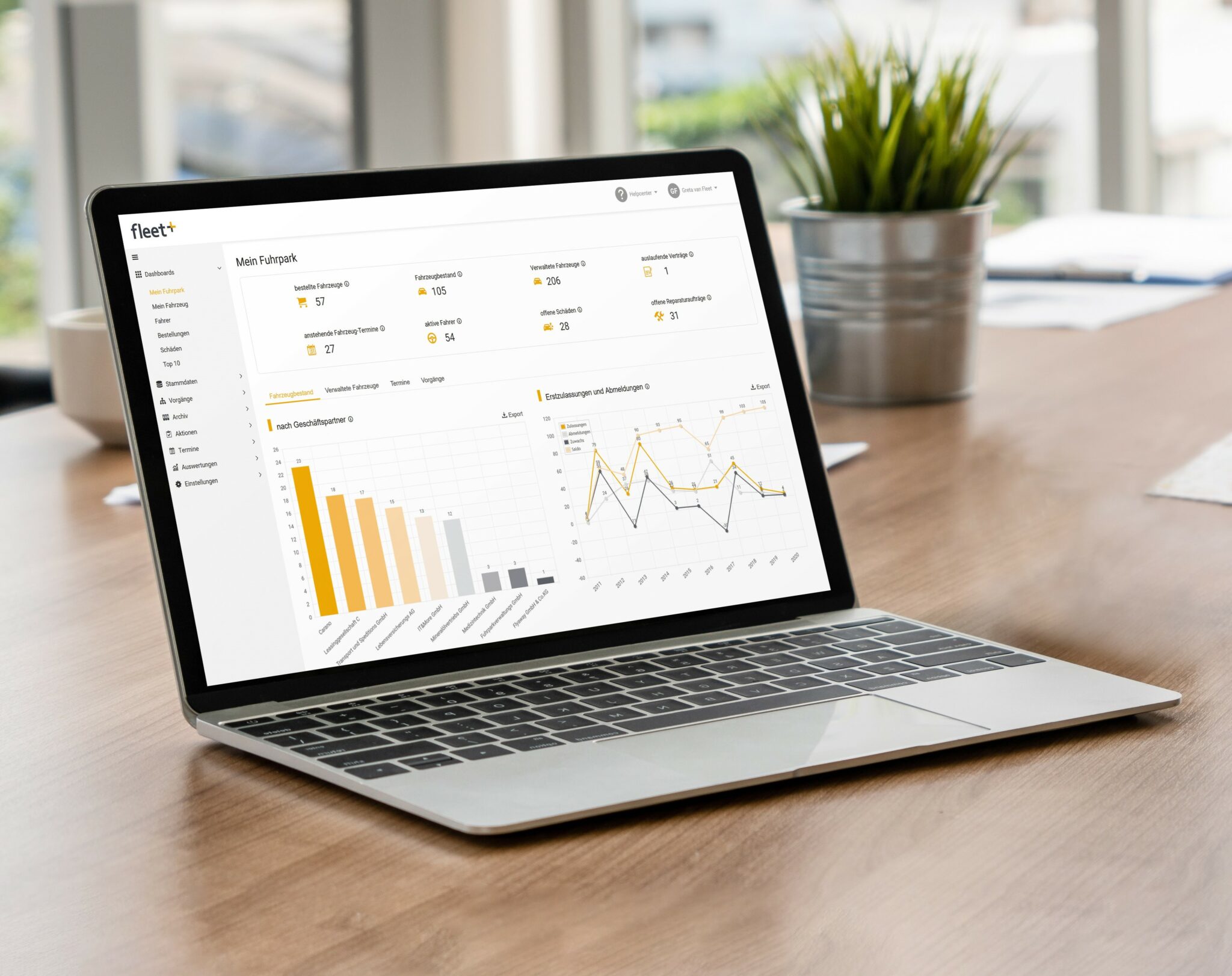 With our powerful fleet management software Fleet+, you can control your company's fleet digitally, cost-effectively and transparently.
A fleet software is a specialized software solution that facilitates the management and organization of a fleet. It is used to record and manage all vehicle and driver data in one place. Comprehensive reporting capabilities provide fleet managers with valuable insights into fleet performance and enable them to make informed decisions to increase efficiency and reduce costs. It can usually be supplemented with various add-ons, which can be used, for example, to carry out electronic driver's license checks or driver instruction in accordance with UVV.
What are the advantages of a software solution for the fleet?
The use of software offers companies numerous advantages. It simplifies complex fleet processes and creates structured workflows, reducing the workload for fleet managers. An IT solution also ensures transparency and helps to monitor and reduce costs in the fleet.
Automation
Fleet software automates many manual processes that are time-consuming and more error-prone in Excel. By digitizing tasks such as data import, calculations, reminders and reporting, it saves valuable time and resources that can be used for strategic management of the fleet.
Centralization of data
A digital solution is used to centrally capture and manage all relevant data related to vehicles and drivers, including vehicle information, maintenance logs, driver data, insurance records, fuel consumption and much more. This also facilitates access to information for other stakeholders, such as accounting or HR, while maintaining data integrity through individual access permissions.
Reporting and cost control
Software generates reports and analysis based on collected data, such as vehicle usage, fuel consumption, maintenance requirements and operating costs. This makes it possible to identify potential savings in the fleet, optimize operational processes, and make well-founded decisions.
Maintenance management
By using a digital solution, maintenance and repair schedules can be created, appointments can be monitored and reminders for maintenance work can be generated. This ensures that vehicles are kept in optimum condition, downtime is minimized and costly repairs are avoided.
Claims management
The processing of claims is also simplified thanks to a digital solution. In addition to documenting damage electronically, software also simplifies the tracking of the claims process – from notification to repair. Automatic notifications and automated communication between drivers, insurance companies and repair shops speed up claims processing. In addition, the software provides comprehensive reports and analysis to identify loss patterns and take preventive action to reduce losses.
Compliance with the keeper's liability obligations
Driver's licenses can be conveniently checked on the go via smartphone app. Driver instruction in accordance with UVV can be carried out flexibly online as an e-learning course, no matter where the driver happens to be. This is not only very convenient for employees, but also relieves fleet managers of time-consuming appointment organization and driver communication. All tests and test results are documented and stored in a traceable manner.
Integration with other systems
A digital solution can be integrated with other business systems, such as accounting software, human resources management, and order management. This allows data to be seamlessly shared and processes to be automated to improve the efficiency and accuracy of data collection and processing.
Who is responsible for fleet management in the company?
Responsibility for fleet management can be organized differently in companies. In small and medium-sized companies, employees often take on the tasks of fleet management in addition to their actual duties, such as purchasing or accounting. Companies with large fleets typically have a fleet manager as the central person responsible for overall fleet management. In some cases, companies also choose to outsource fleet management to external service providers. What are the advantages and disadvantages of fleet outsourcing, you will learn later in the article.
What are the tasks of a fleet manager?
As mentioned at the beginning, the control of a fleet of vehicles is complex and very versatile. Tasks range from vehicle procurement and appointment management to claims and maintenance management. In addition, there are also a number of legal and regulatory requirements that must be considered when managing a fleet of vehicles.
Budgeting and cost control
The fleet manager is responsible for budgeting the fleet. Monitors vehicle acquisition, maintenance, repair, insurance, fuel and other expenses. Effective cost control and analysis can achieve savings and make the best use of the budget.
Procurement and fleet planning
The tasks of a fleet manager also include the procurement of vehicles as well as contract negotiations for vehicles, leasing agreements, insurance and other fleet-related services. The key is to negotiate the best terms and contracts that meet the company's requirements. In addition, it must be decided whether vehicles will be purchased, leased or rented to meet the mobility needs within the company. In addition, it is the responsibility of the fleet manager to determine the optimal number, types and specifications of vehicles to meet operational requirements . This includes the evaluation of vehicle usage, the analysis of costs and efficiency, and the consideration of environmental aspects.
Vehicle maintenance and repair
Regular maintenance and repair of the vehicles is crucial to ensure high operational readiness and safety. The fleet manager plans and monitors the maintenance schedule, coordinates workshop appointments and ensures that all vehicles are in perfect technical condition.
Compliance with the keeper's liability obligations
Compliance with keeper liability obligations in the fleet is of great importance and plays an important role in fleet management. Regular checks of driver ' s licenses and the proper implementation of driver training in accordance with UVV are therefore also among the central tasks of a fleet manager. Failure to comply with the keeper liability obligations may result in legal consequences such as fines, penalties or other sanctions in the event of a claim.
Claims management
Handling damage is also part of fleet management. Effective claims management aims to process claims quickly and efficiently to minimize vehicle downtime and disrupt operations as little as possible. Fleet damage management also includes planning and implementing preventive measures so that damage can be avoided.
Fuel management
An important aspect of fleet management is fuel management. The fleet manager monitors fuel consumption, analyzes the data, identifies potential savings and implements measures to reduce consumption and costs.
What role does controlling play in fleet management?
The goal of fleet controlling is to improve the efficiency, profitability and safety of the fleet. This is achieved by making informed decisions based on data and metrics. Fleet controlling therefore involves the collection and analysis of a wide range of data using predefined KPIs, such as vehicle usage, fuel consumption, maintenance costs, insurance costs, accident data, driver behavior and other relevant key figures. By analyzing this data, trends can be identified, performance indicators determined, and deviations from targets identified.
Another central aspect of fleet controlling is the control of costs. This includes monitoring fuel costs, maintenance and repair costs, insurance costs, vehicle acquisition costs, taxes and fees, and other fleet expenses. Effective cost control allows savings potential to be identified and measures to reduce costs to be taken.
In general, Fleet Controlling prepares budgets for fleet operations and monitors actual expenditures against budget. It also includes forecasting future expenditures and planning resources based on anticipated fleet needs.
What are the legal requirements to be observed in the vehicle fleet?
In fleet management, there are a number of legal requirements and official regulations to be observed:
The Working Hours Act (ArbZG) regulates the working hours of drivers and contains provisions on driving and rest times, break regulations and maximum working hours for driving personnel in commercial goods and passenger transport.
The Occupational Health and Safety Act (ArbSchG) also applies to the vehicle fleet and sets out general requirements for protecting employees from work-related hazards. It is intended to ensure the safety and health of employees and provides the basis for regular driver instruction in accordance with UVV. This is designed to train drivers in the safe use of company vehicles and how to behave in the event of an accident, and to minimize the risk of accidents. Driver training must be carried out at least once a year.
The obligation to check driver's licenses in the fleet arises from the Road Traffic Act (StVG), which contains provisions on liability in road traffic and regulates aspects such as issuing driver's licenses, vehicle registration, traffic regulations and sanctions for traffic violations. The licenses of all drivers should be checked at least twice a year.
Live-Demo Fuhrparkmanagement mit Fleet+
Friday, 2024/01/19 – 11:00 AM
Fleet management: in-house vs. outsourcing
The decision as to whether fleet management should be handled in-house or outsourced and thus handed over to an external fleet service provider(outsourcing) depends on various factors and can vary from company to company. Here are some points that can be considered when making a decision:
Inhouse
Independence from external service provider and direct influence on workflows and processes
Building internal expertise
Support through digital fleet solutions
Outsourcing
Know-how and better purchasing conditions
Increased efficiency as employees focus on core tasks
Investments for IT and further training of employees can be minimized
Inhouse
High expenditure of time and resources
Difficulty in keeping up with latest technological developments
Outsourcing
Often higher costs
Loss of internal knowledge and control
Dependence on external service provider and less flexibility
Companies often decide to outsource subareas, transferring operational tasks to a fleet service provider while retaining strategic decision-making power within the company. If fleet management is done in-house, digital solutions help organize the vehicles and all related tasks.
Which trend topics should fleet managers keep an eye on?
Fleet managers should keep an eye on certain trending topics to adapt their fleet strategies to new developments and meet the demands of the changing mobility sector.
Car subscriptions
Unlike long-term leases or vehicle purchases, car subscription often offers a shorter term, sometimes as short as one month. This gives companies the opportunity to flexibly adapt their vehicle fleets to changing requirements, bridge long delivery times for company cars, or test the suitability of alternative drive systems for their fleets. The monthly rate covers all costs including insurance, maintenance and taxes. Only the refueling and charging costs are not included. This enables better cost control and planning capability for fleet management.
Subscribe to company car?
The all-round worry-free mobility package for your fleet: Subscribe to the right company car with our Fleethouse fleet platform and have it delivered to your desired address. Terms start from as little as one month.
Online procurement
Online vehicle procurement is also an important issue in the fleet. In recent years, the process of vehicle procurement has changed significantly, and many fleet managers are increasingly using online platforms to acquire vehicles for their fleets. Fleet managers can thus quickly and efficiently compare a wide range of models, brands and equipment variants, check prices and obtain quotes without having to physically travel to different car dealerships. Online procurement enables fleet managers to handle the entire fleet procurement process electronically, including contract signing and document exchange. This speeds up the process and reduces the administrative burden. Integrations with fleet management software allow procurement data to be seamlessly transferred.
Corporate car sharing
What has already become established in private use is also playing an increasingly important role in fleets. By sharing vehicles, the company can reduce fleet costs. Instead of providing each employee with their own vehicle, vehicles are shared and used as needed. This can reduce the number of vehicles required and increase utilization. This results in savings of up to 30 percent on purchase, insurance, maintenance and servicing.
Complete package for car sharing in your fleet
From vehicle booking and flexible vehicle access to compliance with legal requirements, our corporate car sharing software CaranoCloud lets you manage your pool vehicles efficiently.
Electromobility
Electromobility is becoming increasingly important in fleet management. Many companies are setting goals to electrify their fleets and are investing in electric vehicles to meet their sustainability goals and reduce costs. Although electric vehicles are often still more expensive to purchase than conventional combustion vehicles, they can lead to long-term cost savings in the fleet. Electric vehicles have lower operating costs per mile because electricity is cheaper compared to gasoline or diesel, and maintenance costs are generally lower. In addition, electric vehicles produce no direct emissions and thus contribute to the reduction of air pollutants and greenhouse gases.