Berlin, October 27, 2022 – Carano Software Solutions, one of the leading providers of software solutions in the fleet industry, successfully deploys the CaranoCloud booking software as part of the Smart eFleets research project. The digital solution enables flexible corporate car sharing in fleets, even across company boundaries. The project partners are also implementing on-demand charging of e-vehicles to distribute peak loads and provide sufficient charged vehicles for trips.
More and more companies are integrating electrified vehicles into their fleets. To ensure the best possible utilization of these and thus reduce costs, it is necessary to network fleets and charging points as well as intelligent energy management. In the Smart eFleets project, the partners are also developing solutions that will enable pooling concepts to be used across companies.
One focus of the project is the efficient use of the CaranoCloud booking portal developed by Carano. The software enables the use of vehicles across multiple companies and locations. The booking is made either via web application or via app. In addition to the driver's requirements, the charging status of electric vehicles is also taken into account. Based on the data, the charging processes can be controlled. This ensures that sufficient charged e-vehicles are provided for the trips. At the same time, this allows investments in the expansion of the power grid to be minimized. The software also integrates third-party systems for key issuance or the use of telematics data. Keyless vehicle access via smartphone – even without an Internet connection – is provided by a flinkey box from Witte Digital.
CaranoCloud has been successfully deployed at three of the partners' sites for more than a year. Step by step, new locations were integrated into the pooling and the number of vehicles in the model test was significantly increased to 124. In the final phase of the project, further experience with the sharing concept will be gained in the companies by the end of 2022. To this end, the operating concept is being adapted so that it can serve as a solution approach for other organizations and companies such as municipal operations, other industries and independent commercial enterprises.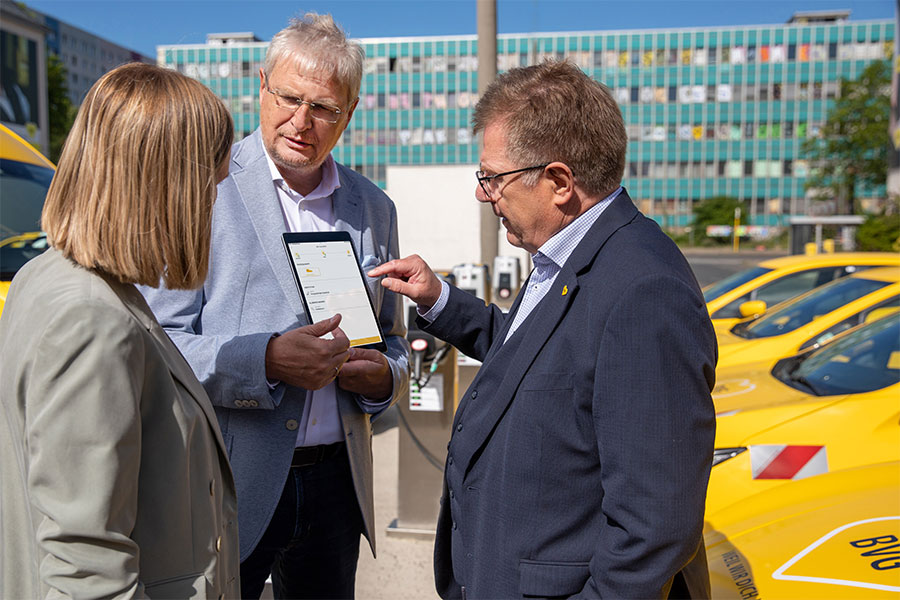 Smart eFleets is a joint research project of Berliner Verkehrsbetriebe (BVG), Berliner Wasserbetriebe (BWB), Berliner Stadtreinigung (BSR), the German Aerospace Center (DLR), Stromnetz Berlin GmbH, the GFT Group, the Berlin Agency for Electromobility eMO at Berliner Partner and Carano Software Solutions GmbH. It is funded by the German Federal Ministry of Digital Affairs and Transport.