Fuel costs were at an all-time high in 2022. Fuel cards have therefore become an indispensable tool for fleet managers to keep fuel costs under control and make fleet operations more efficient. In this article, we'll show you why using a fuel card makes sense for your business and what you should look out for to get the most out of this solution.
What is a company fuel card and how does it work?
A fuel card is a special card that functions similarly to a credit card and is accepted by gas stations and other authorized merchants. With a fuel card, fleet managers can monitor the fuel consumption of their vehicles, control expenses and simplify administrative tasks. The cards are linked to an account from which the amounts for the refueled fuel are debited.
Advantages of a fuel card in the company
Cost control and transparency
With a fuel card, fleet managers keep track of fuel consumption and expenses for each driver and vehicle. Through detailed billing and reporting, they can analyze fuel consumption, identify inefficient driving practices, and take action to optimize costs. This leads to more cost control and transparency in fleet management. Conclusions for action by paying attention to different daily prices or at different gas stations can lead to savings.
Less administrative work
Instead of laborious expense reports and collecting receipts, fleet managers can access electronic transaction data that is automatically integrated into their accounting or fleet systems. This saves time and simplifies the administrative effort considerably.
Flexibility and comfort
Fuel cards are accepted by a wide range of gas stations and merchants. This gives drivers the flexibility to fuel their vehicles at different locations. Fuel cards are often valid in large networks of gas stations, which makes them convenient to use.
Additional functions and services
Some fuel cards offer additional features and services that further enhance fleet management. These include, for example, the integration of GPS systems for vehicle location, the monitoring of maintenance intervals or route planning. With these features, fleet managers can increase efficiency and reduce operating costs.
Security and control
Fuel cards offer security features such as PIN codes and fuel limits to prevent unauthorized use or fraud. Fleet managers can make individual settings to control refueling and limit fuel consumption. This contributes to safer and more efficient fleet operations.
Tank data management: integration into fleet management
For a holistic view of company fleet operating costs, it is advantageous if fueling data and costs can be imported into your fleet management system. Use the appropriate analytics and reporting features to analyze fuel consumption, spend by vehicle or driver, consumption trends, and more. This information helps you identify potential savings and take effective measures to optimize costs. Our fleet management system Fleet+ offers import interfaces to all common fuel card providers for business customers, such as UTA, DKV, Shell, Aral and Esso. The imported tank data and costs are directly assigned to the corresponding vehicles. Comprehensive reports give you an overview of the cards used, fuel costs, comparisons and anomalies. You can also record card losses and blockings, for example.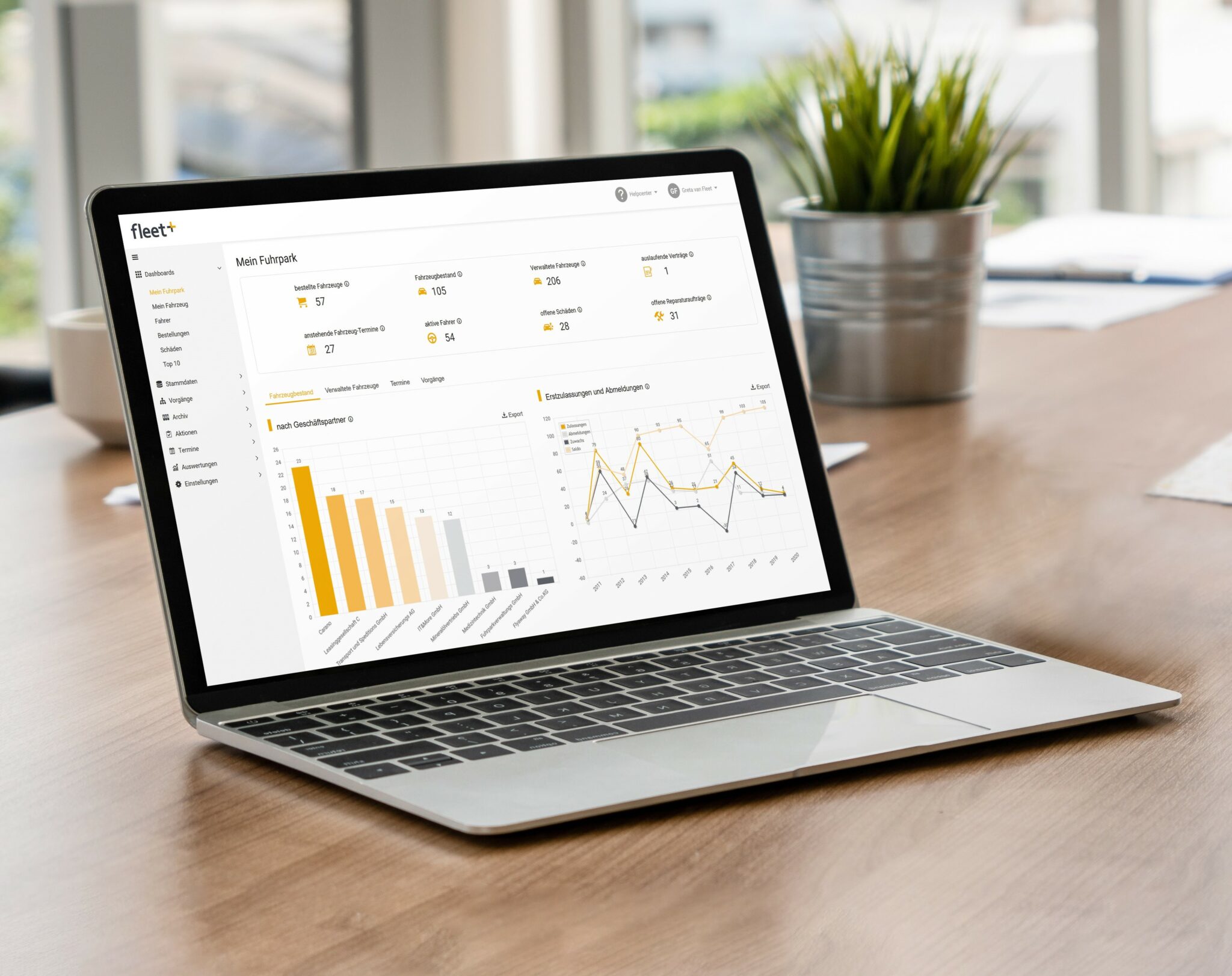 Fleet Management Software
With our field-proven fleet solutions, you ensure transparency, full cost control and structured workflows in the fleet.
Fuel cards in the company: What you should pay attention to
Selecting the right provider: Which provider meets your requirements? Compare terms, fee structures, and additional services to find the best solution for your business.
Acceptance points and network: Before choosing a fuel card, check the network of gas stations and merchants where the card is accepted. A wide network of acceptance points ensures convenient use and allows drivers to refuel at different locations.
Costs and discounts: Learn about the fuel card's cost structure, including any setup fees, monthly base fees and transaction fees. Also check to see if the provider offers discounts or special rates on fuel or other products and services. This can mean significant savings for your business.
Security: Make sure the fuel card has adequate security measures to prevent unauthorized use or fraud. These include PIN codes, fuel limits and the ability to immediately block lost or stolen cards.
Customer support: Make sure that the provider offers reliable customer support. In case of questions, problems or loss of the card, it is important to get help quickly. Check the accessibility of customer support and the services offered.
Fuel cards for electric company vehicles
Fuel cards for electric company vehicles function similarly to fuel cards for combustion engines, but are adapted to the special features of electric mobility. Charging stations can be located in public places such as parking lots, shopping centers or rest stops. To use a charging station with a fuel card, the user must authenticate the card at the charging station. The charging station recognizes the fuel card and enables access to the charging infrastructure. During the charging process, the charging station records the relevant information, such as the charging time and the amount of energy consumed, and uses this for billing. Fuel cards for electric vehicles are often linked to a charging network and allow access to these charging stations, regardless of the operator. Some fuel cards for electric vehicles offer additional services, such as route planning tools that show the nearest charging stations or access to exclusive charging stations with faster charging power. Again, it is important to compare the exact features, conditions and charging networks of the providers.
Conclusion fuel cards in the company
The use of a fuel card in the fleet offers many advantages for companies. Cost control, flexibility and security are just some of the positive aspects. When using fuel cards, fleet managers should review the provider and their terms to save money and increase convenience. With the right fuel card, you can manage your fleet more efficiently, save money and ensure smooth operations. Importing fueling data into fleet management software lets you see total cost of ownership even faster.