A well-functioning fleet can make the difference between smooth business operations and inefficient, costly processes. This is where fleet analysis comes into play. Whether you are currently considering modernizing your fleet, reducing costs, or making your business more sustainable, a fleet analysis provides valuable insight and solutions. But how does this work? In this article, we highlight the most important aspects and issues.
What is a fleet analysis?
A fleet analysis is a systematic approach that can be used to evaluate the current condition of a fleet and identify potential for optimization. Such an analysis enables companies to dive deep into the structures, processes and costs of their fleet and make strategic decisions.
How often a fleet analysis should be performed depends on the size of the fleet. In general, it is advisable to take a closer look at the fleet at regular intervals – once a year, for example. A comprehensive analysis takes into account business aspects as well as technical and organizational aspects. The following steps should be considered
1 - Determine the goals of the fleet analysis
First, determine what you want to accomplish with the fleet analysis. Do you want to get a comprehensive overview of the fleet, reduce costs or increase efficiency? Or is the focus on compliance with new environmental regulations? You may also be considering implementing fleet software. A possible goal would also be to see if the fleet meets operational needs. Depending on which goal is your priority, the subsequent analysis should be aligned.
2 - Analyze processes and structures
Fleet analysis begins with an examination of all processes and structures in the fleet. First, present the structure of the fleet management system. Is the fleet organized centrally or decentrally and how many people and departments are responsible for managing the fleet? You then look at the individual processes and work steps, such as
Vehicle procurement
Data and contract management
Maintenance and repairs (incl. tire management)
Settlement of claims
Insurance Management
Handling of fuel cards
Fleet Controlling
Compliance with legal requirements
Answer the following questions as you do so:
Are the individual work steps up to date or outdated?
Are the processes sufficiently documented?
Can processes be optimized with the help of digital tools? Are there process breaks?
If you are already using a software solution, you should question whether it still meets the requirements of the fleet?
Live-Demo Fuhrparkmanagement mit Fleet+
Friday, 2024/01/19 – 11:00 AM
3 - Analyze vehicle stock and utilization
The next step of the analysis deals with one of the most important aspects in the fleet: the vehicles. Verify that all vehicles are needed, that they are efficiently utilized, and that older vehicles should be replaced with newer, more cost-effective models. After all, not every vehicle is necessarily tailored to the company's specific requirements. With the analysis you can determine whether the existing vehicles meet the actual needs.
Consider, among other things:
Number and type of vehicles
Age and condition of the vehicles
Frequency of use and service life
Purpose of the vehicles
Mileage
While some vehicles may rarely or never be used, others are overused. This can lead to unnecessary costs or faster wear. The utilization of the vehicles is also a decisive criterion for the acquisition of further company vehicles. When analyzing vehicle utilization, you should distinguish between personal company cars and pool vehicles:
According to one study, the utilization rate of company cars is only around 6%. So it's worth taking a closer look here. In this context, it is also important to consider the leasing kilometers in comparison to the kilometers actually driven? Are there any differences here?
Do you experience frequent downtime or bottlenecks at certain times of the day? With the help of a car sharing software, the utilization of the vehicles can be easily analyzed. If necessary, it is worth expanding the mobility mix in the vehicle fleet with other alternatives such as a mobility budget or company bicycles.
4 - Calculation of the total cost of ownership
Looking at the total cost of ownership in the fleet is a key section of the fleet analysis. The total cost of ownership (TCO) includes not only the acquisition costs, but also all expenses associated with owning and using the vehicles. If you take all direct and indirect cost factors into account, hidden expenses and cost drivers in the fleet can be discovered. Therefore, take a closer look at all expenses and identify areas where savings can be made. Basically, the TCO is composed of the following cost centers:
Acquisition costs
Financing costs such as interest or leasing fees
Ongoing operating costs such as maintenance and repairs, fuel costs or insurance
Administrative expenses
Value loss
5 - Sustainability in the vehicle fleet
Climate and environmental protection play a major role in fleets, driven by CSR reporting requirements. The fleet analysis therefore also looks at the environmental balance of the fleet and CO2 consumption, for example by showing how fuel costs can be reduced by switching to more efficient vehicles or optimizing routes. In this way, long-term cost savings can be realized. A thorough analysis also provides the necessary database to define realistic sustainability targets for the fleet and monitor progress. When conducting a fleet analysis, you should therefore consider the following questions:
What types of propulsion are used in the fleet?
What are the CO2 emissions?
What is the fuel consumption?
Which vehicles can be electrified?
How does a software solution support fleet analysis?
Fleet management software can greatly facilitate and optimize fleet analysis. It replaces manual processes and offers a wide range of options for data acquisition and evaluation. At the touch of a button, the software generates detailed reports that can be used to highlight various aspects of the fleet – such as total cost of ownership (TCO) or the utilization of individual vehicles – and identify potential for optimization.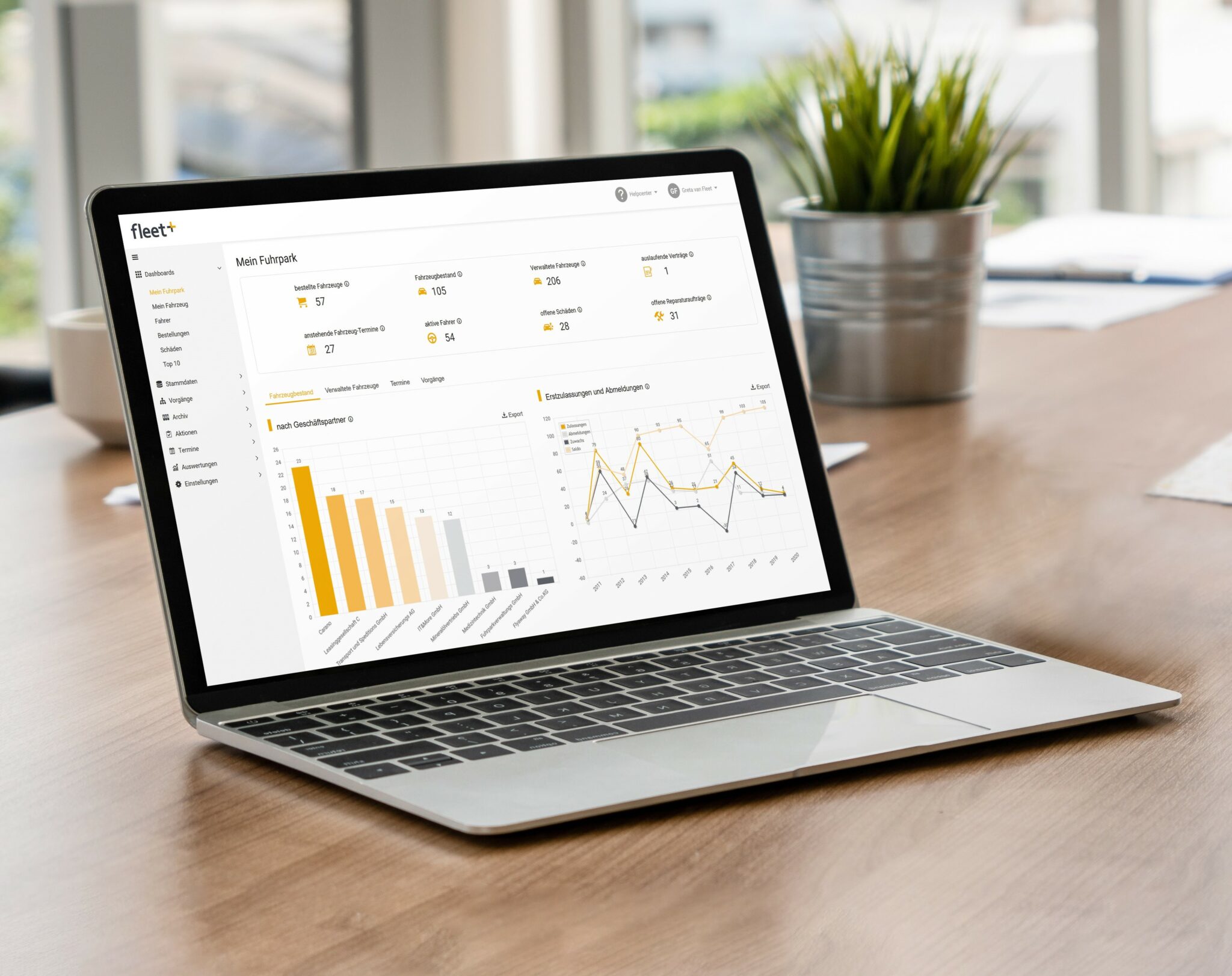 Always keep an eye on all data, costs and consumption in the fleet. With Fleet+, you minimize your workload and ensure structured workflows.